QLat 2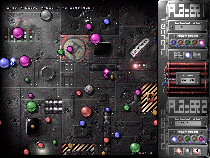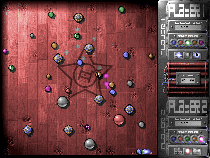 Another unique taste that I found while digging in this net. Nearly nothing about this game sounds familiar. Again I have never seen such a concept or game play before. Or even name "QLat" What ta... ?
At each level a board is set to contain a couple of colored balls. You have control of only one of them. The goal is ...Can you guess it ?....... is to PAINT all other balls with one single color !!. Any color. Once done, they will explode. But the bonus colors will give you more of a score. How ? is a bit hard to say, but it's really understandable once you try the game. Basically, moving balls paint other non-moving balls. So you have to make some clever moves hear and there to paint every thing and move a level. But, wait, those other balls........ they move. Yes, it's unpredictable, there is no one way plan to play this game. Any thing can happen. Bonuses from no were, problems from no were. Luck is a factor, which makes it fun.
I really don't know how to describe QLat. It's.... hmmm, It's not really a puzzle. It's a combination of fast thinking, fast moving, accurate moving and luck. Graphics, Awesome. Sounds/music very nice. (a little too rocky). Guess what, It FREE. You usually don't see such games for free. Oh, Almost forgot, It has multiplayer support.
One last thing I have to say. It's NOT easy. I couldn't get passed the 5th level !!. Time is a real problem hear. You have to be quick. Really quick. Or.... may be I'm getting too old for this.